Synopsis of Cook Like A. Champion TV Series: Thank you for the opportunity to share my vision and dream with you! Chef Ace Champion; owner, host and executive producer of Champions Production which produces the TV hit Cook Like A. Champion TV series. What separates Cook Like A. Champion from other TV cooking shows is my signature Infusion Style of Cooking, combining cultures and flavors from all over the world. Cook Like A. Now available on over 150 TV broadcasting channels Including over the air, cable, stalactite, direct tv, dish and more. We have over 100 online on-demand platforms in over 65 countries and growing! Our home is Wisconsin with six stations currently broadcasting. We are on weekly in some markets and 7 days a week on others. You will find the latest recipes and more. Learn More!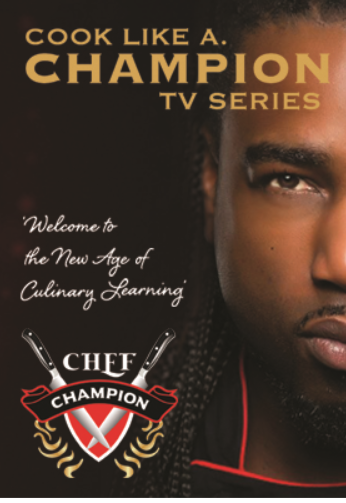 Watch and Listen to Cook Like A. Champion On-Demand-Free Videos (Available on over 100 platforms to over 300 million HH Global!
Listen to the latest food trends on Cook Like A. Champion Podcast. Topics including holiday favorites, food trends and full individual recipes.
Listen Now!

Keep up with the latest on our Cook Like A. Champion Facebook Page
© Copyright Chef Ace Champion